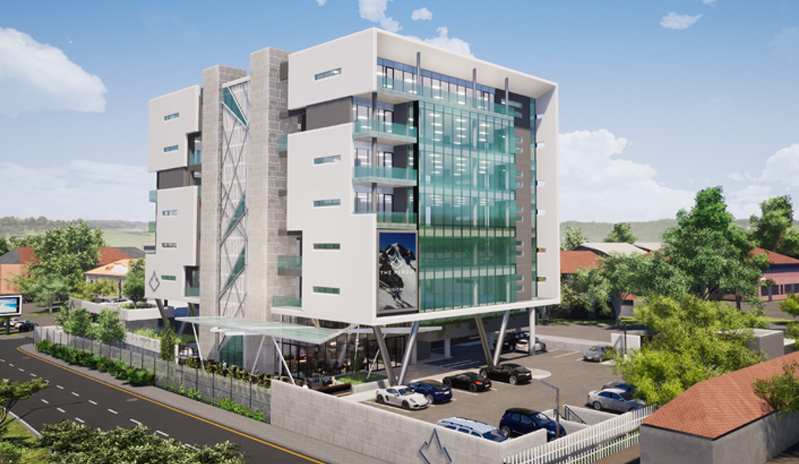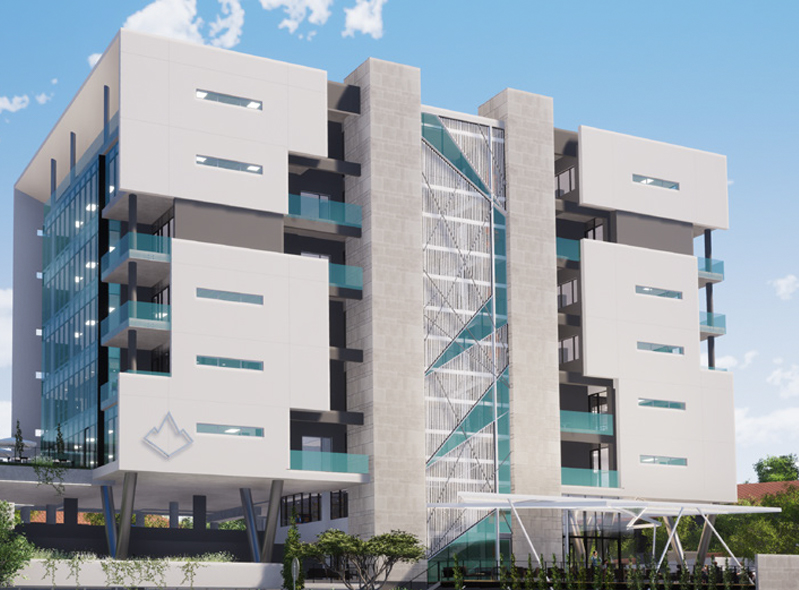 PROJECT DESCRIPTION
Client: The Perdu
Category: Current Projects
Designed with exquisite sophistication and luxury in mind, The Perdu is a bespoke and exclusive offering to be treasured by the discerning business person, who values quality and absolute privacy. Monte Perdido, a spectacular mountain range located in Spain, which lies hidden from France by its seemingly impenetrable peaks, inspires The Perdu's name.
The Perdu is a development of twelve private, opulent and at 350m2 , expansive spaces, conveniently located in the affluent and expanding business hub of Bryanston. At seven storeys, The Perdu will be the first high-rise in this area and is near the well-known Nicolway shopping centre, as well as major highways, Sandton, Randburg and Fourways.
Complete with valet parking, The Perdu is genuinely a delight from the moment you arrive. Visitors are greeted in concierge-style and are welcomed into the lobby with its bespoke slow lounge feel and dramatic double volume reception with its abundance of light. The tenant has the privilege of taking their visitors to the mezzanine level, which has a more enclosed and private feel than that of the lobby.
The private, outside areas and deck present visitors with sweeping Northern views and while secluded from the hustle and bustle of William Nicol, its tangible, vibrant energy is still felt.
Thereafter, tenants are escorted to their space via innovative, direct lifts that deliver them straight to their area, ensuring complete privacy and security. Each space includes its own balcony with elevated views that provides the opportunity to momentarily escape and enjoy the brilliant climate that Johannesburg has to offer. Additionally, these spaces have private bathrooms with high-quality finishes such as motion-sensor tap ware, and access to private, as well as shared boardrooms.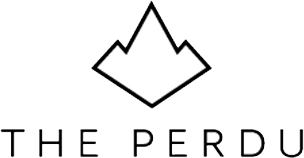 Low-energy performance glazing is used throughout the building.
The functional coating on this performance glass assists in insulating the entire structure. Thus, resulting in a more efficient usage of the air-conditioning system.
INSULATION
Roofs will be insulated as protection from the extremes of climate.
As with glazing, this insulation assists in the more efficient usage of the air-conditioning system.
ELECTRICAL EFFICIENCY
The most modern electrical infrastructure has been integrated throughout the development to ensure a drastically reduced consumption level.
Energy efficient solutions within the development include:
LED down-lighting
Energy efficient T-5 space lighting
Motion sensors to basement toilets and cores
Solar electric (Photovoltaic) panels
Day/night switching of external lighting
Heat pump geysers that are only +- 30% of the consumption of standard geysers
WATER CONSERVATION
Our heat pump geysers ensure that water is heated economically with typically up to 70% saving in energy being achieved.
Water is conserved through the use of efficient cisterns to ensure that the minimum required water tanks are provided to ensure continuity of water supply to the development.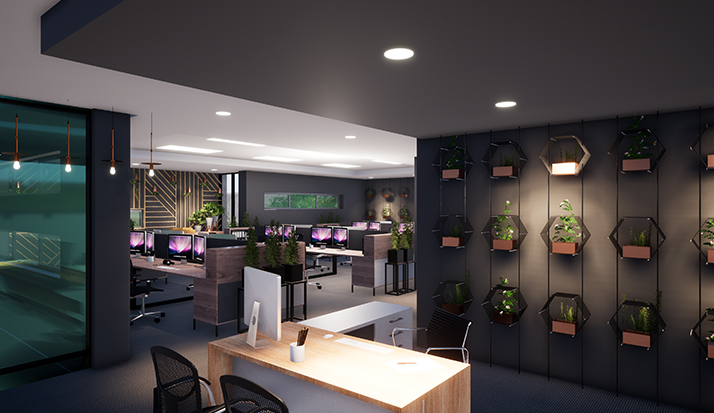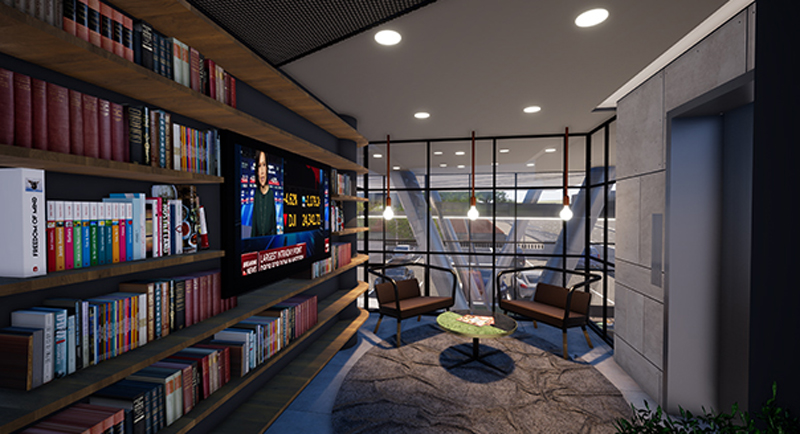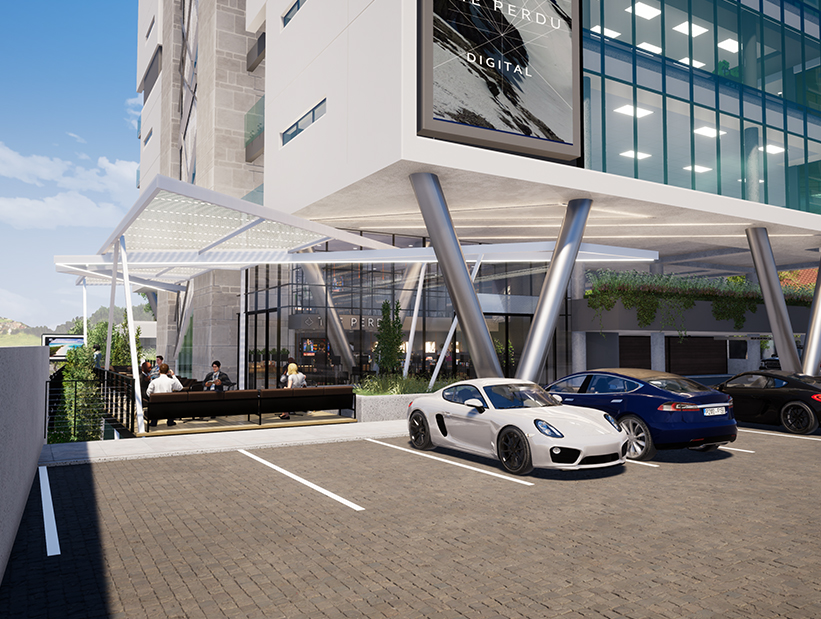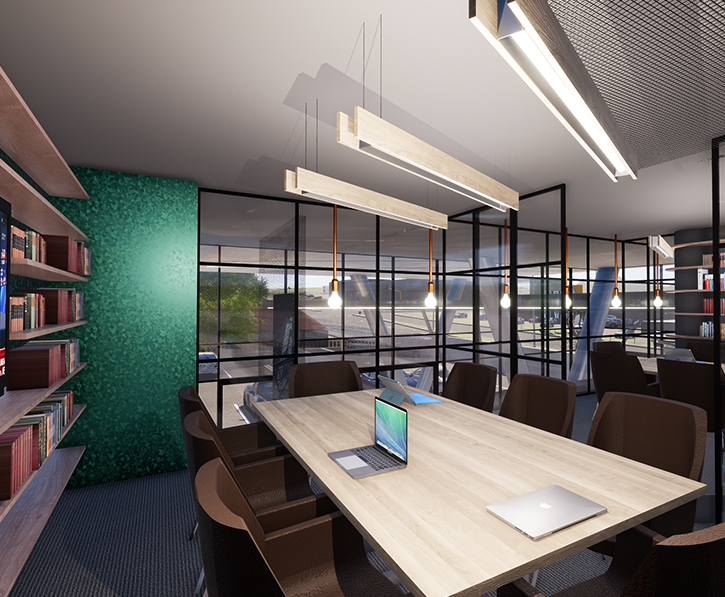 KEY FEATURES
Located in an affluent, expanding and convenient business hub
Close to Nicolway Shopping Centre, major highways and Sandton, Randburg and Fourways
Seven storeys, North-facing with sweeping views
Lobby with a slow lounge feel
Dramatic double volume reception
Full height glazing to the North and South
24-hour access that caters to global markets
A concierge-feel and facilities
Elevated views Valet parking
GALLERY
The Perdu is genuinely a delight from the moment you arrive.